Bill
[[Image:Bill-Sitting_Ducks.jpg]]|250px]]


Friends

Aldo Dr. Cecil Claire Ed Oly Waddle Fred

Voiced by

Ian James Corlett, Rob Paulsen

Hometown

Familial Information

Bev (Wife) Brian (Son) Ed, Oly and Waddle (Brothers)

Feuds

Arvy Raoul Colonel Snappy
Bill is a Duck, A brother figure to Ed, Oly, Waddle, Fred, and Raoul. He is the main protagonist of the TV Series Sitting Ducks and is voiced by Rob Paulsen.
Personality
Edit
Bill is Naive, childlike, and compassionate. Bev likes him because of his kind and compassionate ways. 
Relationship
Edit
Bill is Bev's husband and is Aldo's Best friend.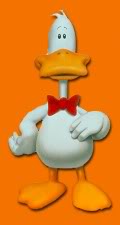 Ad blocker interference detected!
Wikia is a free-to-use site that makes money from advertising. We have a modified experience for viewers using ad blockers

Wikia is not accessible if you've made further modifications. Remove the custom ad blocker rule(s) and the page will load as expected.